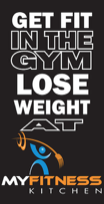 Interested in getting started with My Fitness Kitchen?
We recommend you get started with our no-risk, no-commitment 30-Day Jump Start. It's our deeply discounted short-term trial offer that allows you experience everything we have to offer before deciding on your membership level. You can learn more by clicking here!
So What Are My Fitness Kitchen Coaching Membership Options?
At My Fitness Kitchen, we offer three levels of coaching membership, each with additional benefits. Our memberships are cumulative, so Level 2 members get everything in Level 1. Level 3 members get everything in Levels 1 and 2!
Check out the 3 LEVELS here:
L1 Level 1 Coaching Membership:
UNLIMITED Group Fitness (Personal) Training & Facility Access
Perfect for the Cross FIT / Boot camp crowd interested in metabolic training at a fraction of the cost. In addition to unlimited access to these high-energy group training sessions, individuals have access to exercise on own when personal availability may conflict with the schedule of group fitness (personal) training sessions.
All training sessions are designed to complement your weight management program.
Finally, enjoy the additional benefit of unlimited access to work out on your own without being limited to only the group fitness (personal) training schedule.
Unlimited fitness facility access includes:
Functional training equipment (TRX, kettlebells, Battle Ropes, Axius Core, Sweight™ plates, medicine balls and more!)

Spinning Studio (instructor-led classes and private use)

Traditional free weights

Stationary cardio equipment

Accountability Check-Ups (ACU's)
LEVEL 1 Coaching contract options:
12-month (open-ended) - The best price value will be minimally obligated for twelve (12) payments. Once the minimum obligation term (12 months/payments) are fulfilled membership will move to month-to-month status
Month-to-Month (M2M) - This is the shorter term option. Due to the required minimum notice to cancel membership will be at least two (2) months/payments.
L2 Level 2 Coaching Membership
Semi-Private (Small Group) Personal Training
Designed for the individual who wants a more personalized hands-on coaching program.
The experience compared to Level 1 group fitness (personal) training is a more intensive, hands-on coaching for those who are unable to execute their workouts on their own and/or may have pre-existing conditions.
The focus in Level 2 is more on muscular strength than the metabolic muscular endurance provided in LEVEL 1. This concern for muscle focus of LEVEL 2 is excellent for individuals seeking to maximize metabolism and slow down the aging process. Additionally, the muscular focus will serve as a magnifier to any LEVEL 1 workouts or SPINNING classes when it relates to caloric expenditure.
In Level 2, we keep you accountable to your nutrition and exercise program with a personalized action plan (exercise prescription ExRx) each week. This coaching will help balance your life's other demands to make a healthy lifestyle livable within your schedule.
Sessions are offered on a set schedule and target specific goals through your individualized program. Coaching occurs in a semi-private environment restricted to 2-6 individuals. Sessions will require sign-up, but will NOT be canceled if only 1 person registers. This means a one-on-one is a possibility but not a guarantee like Level 3 coaching.
L3 LEVEL 3 Coaching Membership
Private Personal (one-on-one) Training
Perfect for those who want coaching delivered in a guaranteed "one-on-one" personal training setting. The exclusivity of our private training in addition to resistance training, group metabolic or spin will ensure you are never alone on your road toward a healthy lifestyle.
30-Day JUMPSTART is our LEVEL 3 Coaching Membership without any commitment beyond the initial 30-days
LEVEL 2 and LEVEL 3 coaching membership offer to two (2) frequency of Semi-Private training per week. Unlike LEVEL 1 memberships where the 12-month agreement is open-ended; both LEVEL 2 and LEVEL 3 12-month options are closed-ended agreements.
One time Per week (1x/wk) - This option allows you to work with your coach once a week to focus on the areas for maximum improvement. Clients will be advised on how to incorporate LEVEL 1 benefits of the Group Fitness (Personal) training sessions, Spinning and facility access to compliment the scheduled training session each week.
Unlimited - This option is perfect who prefers be coached each time they come in. Typically frequency is two or three times per week. Can be more or less depending on availability, what phase of program, how body is responding. As with the 1x/wk frequency, clients will be advised on how to incorporate LEVEL 1 benefits of the Group Fitness (Personal) training sessions, Spinning and facility access to compliment the scheduled training sessions.
How Do I Get Started With My Fitness Kitchen?
Your journey with us begins with a FREE consultation, where we'll go over your goals and help you better understand our strategies. You can book your consultation by giving us a call at 724-879-8523 or filling out the short form on your screen!
How would I cancel a membership? What is the policy to cancel?
How to cancel a LEVEL 1 - 12-month (Open-ended) or any of the three LEVEL Month-to-Month Membership agreements?
A one month advance notice is required to cancel.

All memberships are prorated to start on the 1st of the month, even though My Fitness Kitchen doesn't bill until the 5th of the month. Therefore we encourage all members prior to joining to plan ahead when they would decide to cancel membership. For example; if a notice is submitted on December 1st, the membership will have December and January dues responsibility and membership access; whereas a November 30th submitted notice would only have a December dues responsibility and membership access.

Usage or non-usage of My Fitness Kitchen® is not a factor in an individual's dues responsibility.

All cancellation requests require My Fitness Kitchen® official paperwork to be completed and submitted to My Fitness Kitchen® to process – NO EXCEPTIONS.

The official paperwork can be located either at the front desk or via the respective pdf document download: Cancellation request WILL NOT be accepted via phone or e-mail.
How to cancel a LEVEL 2 and LEVEL 3 Twelve (12) month close-ended agreements?
It is understood that these agreements are for a twelve (12) months with NO auto-renewal (close-ended).
After the completion of my twelve (12) payments; I understand I can opt to:
renew another 12-month LEVEL 2 or 3 coaching membership

choose from the other coaching membership options

Walk away at end of the 12-month term and MFK all-together